Energy investors looking to get into renewables will hope to find the best growth market and best firm to invest in when the green revolution transforms the energy sector. In a previous article, I discussed how clean energy has gained traction in the political arena with plans to expand the industry introduced in Ireland, India, and South Korea, but these markets will only provide a small fraction of demand in the future. The U.S. and Europe are two obvious contenders for role of key growth driver in the renewable market as both developed nations have a mature technology sector and a sizable movement supporting the green movement. But, Europe's shrinking demographics and the United States' rock solid natural gas infrastructure deter their potential to be number one. In fact, their cumulative growth in the photovoltaic and wind energy markets have been outdone by China's.
Solar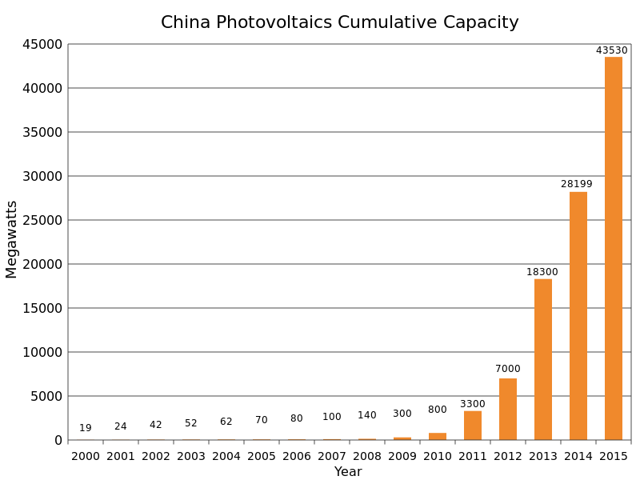 From Wikipedia
The solar industry is known for its capital intensive research and development which can be a huge obstacle to growth in the market. Sometimes this can deter a nation's initiatives to expand photovoltaic electricity generation. But China's photovoltaic expansion has been spectacular setting new records with each year passing by. In 2015, it was responsible for over 30 percent of world's installed capacity adding 15.15 GW according to IEA data. This impressive growth rate has helped China's solar capacity to almost double in two years. In 2016, China's cumulative capacity sits at 43.5 GW, the largest in the world. However, its solar infrastructure only supplies about 1 percent of total energy demand. Although it has well surpassed its 2015 target of 35 GW, new demand continues to flood into this exponential market. The Chinese government has shown investors that it desires this voracious appetite for photovoltaic technology led by Goldwind, the Chinese energy firm leading the renewable energy revolution.
China's solar appetite will not only lead its nation to the top of the list of clean energy consumers but push its region as well. As Chinese companies get bigger and mature in domestic markets, its technology and infrastructure will be considered reliable to neighboring nations. The Japanese solar market, which was the second largest installer in 2015, has proven their commitment to photovoltaic advancement and can only benefit from relations with Chinese firms. India, a country similar demographically to China, has recently committed their energy future to the renewable industry and would also greatly benefit from its neighbor's solar technology. South Korea, Taiwan, and Thailand are three other Asian states with over 1 GW of solar capacity and intentions to support industry. Altogether, the Asia Pacific region accounts for 57 percent of global capacity, but only Japan and Thailand are generating more than 1 percent of their electricity from this source. The potential for growth in the region is immense. China alone has set a target for 143 GW by 2020.
Wind

From Global Wind Energy Council
Unlike solar power, wind energy has already proven its cost efficiency in markets that have embraced the best technology. For that reason, wind capacity accounts for the largest share of renewable capacity in the world. China also leads these wind markets with explosive growth that increased capacity 115 times in ten years. According to the Bloomberg, China claims "1 in 3 turbines currently installed." In 2015, it set a new record of turbine installations adding 30.8 GW and accounting for 48.5 percent of the world's growth that year. Cumulative capacity now sits at over 145 GW, according to the GWEC, a number that tops the entire capacity of the European Union. While the total installed capacity is large, wind power still only accounts for 3.3 percent of electricity generation. The Chinese government hopes to improve this number as it continues to commit to more wind power with a 250 GW target for wind power.
However, more capacity installations might not be the solution to growth for Chinese wind energy. Inefficiency plagues the current infrastructure as about 15 percent of electricity generated by wind was waster in 2015, that's about 34 billion kWh according to the National Energy Administration. The disconnection on the grid, often called curtailment, has left some wind farms idle as they remain outside the electric grid. Curtailment has caused Chinese wind farms to produce less electricity than U.S. wind farms even though its capacity is almost double. The solution is simple. Imagine a house that has too many lamps, and some are left off because they don't have access to an outlet. The owner, who wants more light, should steer clear of buying more lamps, and instead, should increase the amount of outlets in his house. China's current rate of turbine installation will only be sustainable for a couple more year. At some point, the government will have to shift gears and support the expansion and stabilization of wind infrastructure if it wants to get the best value for its renewable investments.
Conclusion
China is and will be the leading solar and wind energy markets. There is no doubt about this. Demographically and politically, the largest Asian nation has positioned itself to be the largest consumer of clean energy in the next ten to twenty years. The benefits will not remain inside its borders. Investors should be ready to mobilize capital in countries like India and South Korea where markets will be helped along by China's success. Look for renewable ETFs – Guggenheim Solar ETF (NYSEARCA:TAN) and PowerShares WilderHill Clean Energy (NYSEARCA:PBW) are examples – with exposure to these markets for long-term returns. More precise traders might prefer investments in Goldwind or Shanghai Electric (both traded on foreign exchanges) as equities that will command market share in the Chinese solar and wind energy industries.